Hull's new look Freedom Festival hailed a success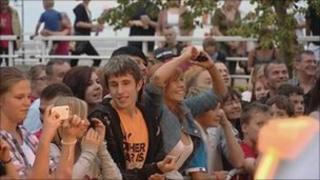 Hull's Freedom Festival has been hailed a success by its organiser, despite a fall in visitor numbers.
Initial estimates by the organisers claimed 75,000 people attended the three-day arts and music event over the weekend.
The number is down on previous years when more than 100,000 visitors saw big-name pop bands perform.
This year's festival dropped star acts in favour of showcasing local performers after a cut in funding.
Janet Reuben, chief executive of Visit Hull and East Yorkshire (VHEY), which organised the event, said the fall in attendance was expected "as we haven't had the very big names".
But despite the drop in visitors she said: "We think it has worked really well."
Funding for the festival had dropped by over a third compared to 2010 - when the festival was headlined by The Saturdays.
This year it cost £372,000 to stage. Last year's budget was £518,000.
Ms Reuben said financial constraints had forced them to change the emphasis of the festival.
She said: "When it actually comes down to it, the bottom line is budget. We would have done much more everywhere if we could have done.
"Maybe we stretched the budget too far. Maybe we did by having stuff at Hull Truck and City Hall, Queen Victoria Square. But, we've got to build a festival here."
Cafe owner Richard Warner claimed many visitors were confused about the location of some venues.
He said: "The signs throughout the city could have been improved. We did have a lot of people stopping and asking us where things were."
The festival has become an annual event since it was launched in 2007 as part of the bicentenary celebrations of the abolition of the slave trade in the British Empire.
The abolitionist movement was led by Hull MP William Wilberforce.