Cleethorpes' £92,000 playground to be sold by council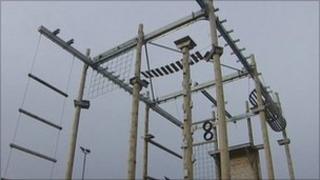 A £92,000 playground that never opened is to be sold by North East Lincolnshire Council.
The 40ft (12m) climbing frame was built at a youth centre in Cleethorpes in 2009.
It has never been used after local residents claimed it was an "eyesore" and overlooked their properties.
North East Lincolnshire Council has voted to sell it to a private organisation and move the equipment elsewhere in the town.
'Mistakes happen'
A report estimates the move will cost the council an additional £70,000, but they hope to recoup the money by charging people to use the relocated facility.
Mick Burnett, deputy leader of North East Lincolnshire Council and ward councillor for the area, admitted it was an error to install the equipment in the first place.
He said: "Mistakes unfortunately do happen. What we now are to do is correct that and work to get the apparatus open for the community. That's the important thing."
The wood and metal scaffolding structure, called the High Wire, was built in the grounds of the Trin Youth Centre on Trinity Road.
People living near to the equipment had been consulted before it went up but claimed it was three metres higher that they had been told.
The structure overlooks Ronald Morgan's garden. He said: "I think it is just a waste of money. Putting that kind of money up there when they could have put it in to education, or something like that.
"I disagree with it going up in the first place, totally disagree."
In January 2011, the council's planning committee refused permission to rebuild the structure at another youth centre in Grimsby.