Lincolnshire metal thieves target empty houses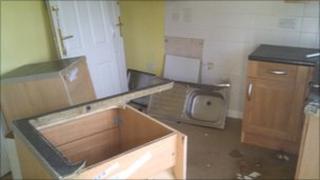 Vacant properties in North East Lincolnshire are being targeted by metal thieves.
A local housing association said the crime had already cost it nearly £65,000 in the current financial year.
Shoreline Housing Partnership in North East Lincolnshire, which manages 8,000 houses across the county, said the problem had increased by 73% compared to last year.
The crime is becoming a growing problem because of the rising cost of metal.
Dave Hunter, from Crimestoppers North East, said: "It's becoming an increasingly popular target for criminals because they see it as a low risk, easy profit margin for them.
"The empty homes are an easy target. The burglars will go in, get about their business quite quietly; nobody knows they're there and they just strip the place."
Of the 170 homes currently empty, 19 have been damaged. The association said it cost an average of £3,300 to repair each property.
'Increased security'
Chief executive Tony Bramley said: "We've had kitchens and bathrooms ripped out to get to the pipe work, joists being cut and floorboards taken up.
"The most expensive theft so far to date this year has cost in excess of £8,000, so we're looking at a bill so far this financial year of pushing to nearly £65,000.
"Two-thirds of this bill is repairing the damage caused by the thefts and the rest is replacing stolen items such as boilers, radiators, metal pipe work."
The association is looking into ways of cutting down on the number of thefts, including reducing the amount of metalwork used inside its properties.
Mr Bramley said: "In some cases that's possible with pipe work, in other cases with things like boilers and radiators you really can't avoid using metal.
"On our empty properties we've increased the security measures we've put in place and we've been working very closely with Humberside Police on a number of operations to aide detection and, hopefully, prosecution of the perpetrators."