Concern over freed whale swimming in the Humber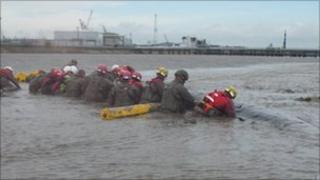 Rescuers are concerned for the welfare of a whale freed from mudflats at Immingham Docks.
A team worked for nearly seven hours to release the 30ft (9m) whale after it became stuck in the mud on Tuesday.
Humber Coastguard said the whale was still in the Humber Estuary between Grimsby and Immingham.
The British Divers Marine Life said they might have to put the animal down if it becomes beached again when the tide goes out.
Stephen Marsh, the operations manager at British Divers Marine Life Rescue, said: "We are concerned that it's still hanging around and we'd like it to go out.
"One concern is that where it is at the moment it may get hit by a large ship because it is in a busy shipping lane.
"The other concern is that after around 4.30pm, the tide will turn again and will start dropping. There's a possibility that the animal may well come back into shore again and get beached.
"It's always the vet's decision as to whether the animal would be refloated or whether it would need to be euthanased.
"It's not a good prognosis if the animal's already beached once and if it comes back in and beaches again, then it suggests it's going to have a continual problem."