Hull's Winifred Holtby school delayed by bust supplier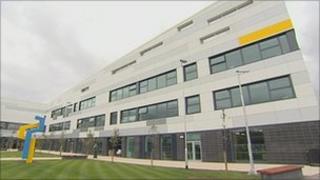 The opening of a £38m school in Hull has been delayed after a firm supplying furniture for the school went bust.
Winifred Holtby School Technical College in Bransholme was due to open on Thursday.
Pupils in years seven, eight and nine, will now return on Monday. Years 10 and 11 and those at the linked Tweendykes Special School will return on Tuesday.
Hull City Council and the firm responsible for delivering the new building have apologised for the delay.
The Hull Esteem Consortium, a group of companies responsible for delivering Hull's Building Schools for the Future programme, said: "Unfortunately this difficult decision has had to be taken after a delay in work caused by the collapse of a company responsible for supplying fitted furniture to the new school.
"Resources had to be diverted to overcome this problem and as a consequence the official opening of the school has had to be pushed back a couple of days."
Sam Whitaker, general manager of Hull Esteem Consortium, said: "We're so close that we've been working around the clock ever since we had the disruption, every effort has gone in to making sure that we weren't having to make this announcement,
"However we sat down... and we got a greater degree of comfort of making sure that the facility is going to be right by making sure that it opens on Monday."
Parents with any questions have been told they can contact the school.