PM's pate recipe to raise funds for Cottingham school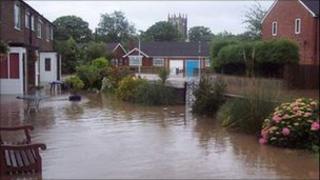 Prime Minister David Cameron has contributed his favourite recipe to a Cottingham school's fund-raising cookbook.
His mackerel pate will generate money to rebuild Croxby Primary School's garden, which was destroyed in the 2007 floods.
Mr Cameron's recipe is joined in the book with others from chefs Nigella Lawson and Delia Smith.
The school uses the garden as an outdoor classroom.
One of the teachers, Julie Bushell, said that the garden was a core part of the school's teaching.
"We have gardening embedded throughout the whole of our curriculum. So we'd like not only just to have pure gardening activities but to have science work going on as well with in the garden context, she said.
"It just opens the whole scientific world for children. And it's fun, and learning should be fun."
The school was left completely underwater when heavy rain caused extensive flooding across the region in June 2007.
Classrooms were so badly damaged that lessons had to be moved the University of Hull's campus until repairs were carried out.
The school had a thriving gardening club and the staff, students and their parents have gradually rebuilt the garden.
The extra money will go towards buying tools and a greenhouse, so the pupils can garden all year round.