Hull firm opens £300,000 fund for struggling businesses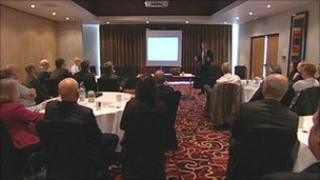 A telecommunications company in Hull has set up a £300,000 fund for local businesses struggling to get finance.
The fund is for firms that are starting up or expanding in the digital communications and technology industry.
Hull-based KC said it had established the fund because of a lack of lending by banks to small businesses during the economic crisis.
A banking industry spokesman said banks were "making determined efforts to connect with businesses".
KC said it hoped the fund, which will provide loans for investment, would stimulate business growth in Hull and East Yorkshire.
Sean Royce, the finance and commercial director at KC, said: "We want to give practical support to new business start-ups to help support the local economy and create new jobs.
"The banking crisis and public sector cuts mean that not only is the job market depressed, but it's also harder than ever for people to obtain finance to set up their own businesses and create work for themselves and others."
'Determined efforts'
The fund is managed by two local enterprise agencies, the Acorn Fund and Sirius, both of which are Community Development Finance Institutions (CDFIs) that provide financial support to communities. Each will receive £150,000 from KC to lend to small firms.
The loans will normally be repaid within three years and the money is to go back into the fund. KC said it would not benefit financially from the scheme.
Local businesses are able to borrow between £1,000 and £25,000 at an interest rate of around 14%, which KC said was "significantly lower than the interest rates charged by banks for start-up businesses".
In a statement, a spokesperson from the British Banking Association, said: "Banks want to lend to businesses that are viable and that can demonstrate they are able to repay the borrowing.
"Banks are currently lending around £500m of new money each month, but at the same time businesses are repaying existing loans.
"The industry is making determined efforts to connect with businesses and it is currently carrying out a series of commitments through the Better Business Finance initiative, UK-wide road shows where banks and businesses can meet, new lending guidelines, a free mentoring scheme for small business owners... and more."