Postal union charity convoy heads from Hull to Bulgaria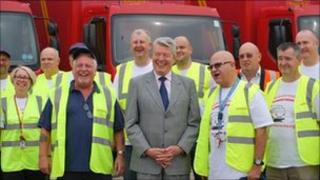 A convoy driven by 20 postal workers has set off from Hull to deliver aid to orphanages in Bulgaria.
The vans are driven by volunteer staff from the Irish and UK postal union charity the Communication Workers Union Humanitarian Aid.
Royal Mail and BT have loaned the vehicles and given the staff time off from work to make the journey.
The convoy was seen off from a Hull sorting office by former postman Alan Johnson MP.
Mr Johnson, a former cabinet minister, was involved in setting up the charity when he was the postal union general secretary in 1995. He remains the patron of the charity.
It initially provided aid for refugees during the war in Bosnia and Herzegovina.
'Enormous problem'
Mr Johnson said despite conflicts in the Balkans ending there was still a demand for help.
He said: "There are parts of eastern Europe, in particular, where they're extremely poor, where the ramifications from some of the difficulties they've had in the past, in places like Romania with the overthrow of the previous dictator.
"In Croatia and Serbia and places like that there is still an enormous problem, particularly with orphans and orphanages."
The convoy of 10 vans will take six days to travel the 3,500 miles (5,600 kms) to deliver medical equipment, toiletries, clothing and toys to two orphanages and a children's hospital.
Convoy organiser Carl Webb said the journey had taken six months to organise.
He said: "One thing is we realise how lucky we are, and we realise how lucky are children are. We get a sense of satisfaction, for once you are putting something back."