Local bands to rock Holy Trinity Church at city festival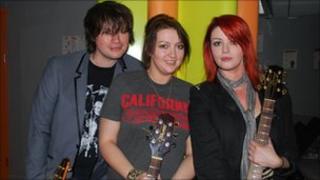 Around 300 local acts will play across venues in Hull's Old Town including at the city's historic church, during a three day music festival.
Eight bars and venues - including Holy Trinity Church - will play host to local musicians later this month at the inaugural Hull Trinity Festival.
Organisers hope that the free event will show off Hull's array of musical talent as well as bringing people into the city's Old Town.
The festival launches on the 30th September and will run for three days.
Bands and artists from Hull's flourishing music scene will be taking part as well as international artists.
Organisers of Hull Trinity Festival have taken their inspiration from Cottingham's hugely successful Springboard festival which attracts hundreds of people each year. Springboard's promoters have been brought on board to work on the Hull event.
'Changing perceptions'
One of Hull Trinity Festival's organisers, Allen Slinger, who runs the Kings Bar and Lounge in Trinity Square, said: "I was blown away by the talent at Springboard and wanted to see a similar event in the Old Town of Hull.
It's not an area of the city people usually associate with live music but we want to change that perception and also publicise what a great music scene this city has.
"We're definitely hoping to follow in Springboard's footsteps and hope our event will be as successful as that brilliant Cottingham event."
As well as the Kings Bar and Lounge, venues taking part in the festival include Lizard Lounge, Jaz Bar, The Old Black Boy, Oscars, Kingston Hotel, Rumours and The Corn Exchange.
Holy Trinity Church will also play a central role.
"We approached Reverend Matt Woodcock at Holy Trinity and he really embraced the idea of the church being a part of the event." recalls Mr Slinger.
There'll be live music inside and outside Holy Trinity over the weekend and a blessing from the reverend will get the festival off to a great start."
The festival starts on Friday 30th September with a gig by local Hull trio The Happy Endings playing at the Kings Bar and Lounge.
Over the course of the weekend, bands and artists from across many genres will be playing including Hull's popular Ukulele Group.
Allen Slinger hopes that the event will become an annual fixture. He said: "All the landlords, managers and organisers are looking forward to the event.
"We hope there'll be a fantastic atmosphere which will appeal to families who come into the Old Town over the weekend. We really hope it'll be a success and become an annual event."
Hull Trinity Festival is on Friday 30th September, Saturday 1st and Sunday 2nd October 2011.