Council action to secure future of Grimsby cooperage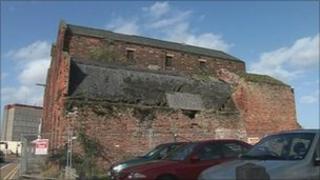 A council has taken legal action to help secure the future of a historic building in North East Lincolnshire.
Magistrates have granted a warrant to allow the council to enter the vacant former cooperage in Grimsby to assess what needs to be done to preserve it.
Mark Cawood, from the council, said it had to resort to using legal powers after talks broke down with the building's owner over its future.
Mr Cawood said: "This is a historic building which is worthy of keeping."
According to Grimsby, Cleethorpes and District Civic Society, the cooperage, where beer barrels were made, was built in 1901 and originally used by Grimsby's Hewitt's Brewery until it stopped brewing in 1960.
It was then used as a storage and distribution depot until 1980.
A planning application to demolish the building and replace it with a car park was refused by North East Lincolnshire Council last year and rejected on appeal.
The council said this was because the building was considered to be an "important local asset".
Council officers have since that time been working with the building's owner in an attempt to agree a future for its use.
Mr Cawood said the warrant was granted after talks broke down with the owner but he had since made contact with the authority and they were hopeful of working together.
"What we want to do is see what work needs doing to stop the building deteriorating any further so it can be preserved and retained for the future.
"The building is privately owned and the onus is on the owner to protect the building and make sure it's safe and that's what we'll be pushing to do."