North Lincolnshire Council buys quad bikes to clear snow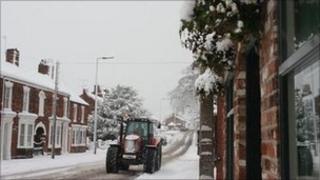 Quad bikes are being bought in by North Lincolnshire Council to help it deal with any future wintry weather.
The authority is spending a total of £130,000 on new equipment, including snow blowers, increased supplies of grit and a system of "snow wardens" to deal with any snowfall.
The plans were drawn up after consulting people in an online survey.
The council said the new equipment would allow it to "respond much more efficiently".
Last year, towns across the county saw prolonged snowfall from November onwards.
'Robust winter plan'
The quad bikes will be equipped with liquid de-icing chemicals which can be sprayed on pavements.
A new system of "snow wardens" will be introduced who will patrol the streets and report problem areas to a central control room.
Nigel Sherwood, cabinet member for highways and neighbourhoods, said: "Since the bad weather last year, we have undertook a full review of our winter service and have carried out significant consultations with all parties to ensure we have a robust winter plan for this coming season.
"Last winter was unprecedented. We had to deal with arctic temperatures and all the problems that resulted from that.
"I wanted to ensure that this year we are better prepared should we have a repeat of last winter. I hope we don't, but at least we are fully prepared."
The council is planning to spend a total of £500,000 this year preparing for winter weather.