Humber Bridge: Public meeting to outline private plans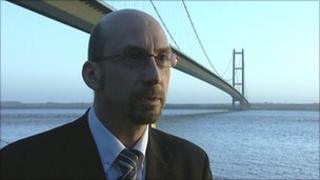 A businessman who wants to buy the Humber Bridge from the government will outline his plans at a public meeting.
Hull-based Malcolm Scott said rising tolls were stopping trade between the banks of the Humber.
He wants to lead a consortium to buy the bridge for £100m, without debt, with a view to reducing the toll to an average of £1 after eight years.
The meeting is due to take place from 19:30 BST on Tuesday at Wilderspin National School in Barton upon Humber.
The Humber Bridge Board has made a similar proposal since Mr Scott's.
The Bridge Board plans to clear more than £300m of debt owed to the government, by paying a lump sum of £100m.
If approved by the Treasury, the board said it would reduce tolls for cars to £2.50 from April 2012 and to £1.50 by 2020. The cost for lorries would drop to £12.50.
The current average toll for a car is £2.70.
A report commissioned in 2008 by four local authorities found that abolishing tolls on the bridge would boost the region's economy by £1bn over 25 years.