Dean Windass's Wembley final medal bought by Hull City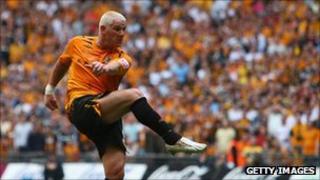 Former Hull City striker Dean Windass's play-off final medal has been sold at auction for £5,000.
The medal was bought by Hull City's current owners Assem and Ehab Allam, who plan to put it on display.
The proceeds of the sale will be split between the player's two children and a cancer ward at Castle Hill Hospital near Hull.
He said the decision to sell came after his brother-in-law was diagnosed with bone cancer in 2009.
Hull-born Windass started and ended his professional career at his hometown club.
He also played for Aberdeen, Bradford City, Middlesbrough and Sheffield United and is currently playing for non-league Scarborough Athletic, where his brother-in-law Darren France is assistant manager.
He described scoring the only goal in the 2008 Championship Play-off Final against Bristol City as the high point of his career.
The promotion was the first time Hull City had reached football's top division since the club was founded in 1904.
"The good thing about it is the memory will never go away," he said.
"It was a great achievement and a great medal."
City chairman Assem Allam said: "It's such an important medal in the history of the club.
"I thought it's a good idea to keep the medal within the family and the football group and for the fans to enjoy seeing it and remember the day we were promoted."