Tata Steel in Scunthorpe to supply rails for French line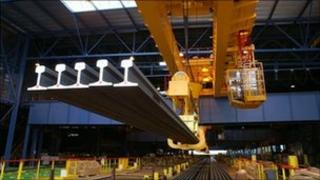 A North Lincolnshire factory is to supply £70m worth of steel to a French rail project.
About 84,000 tonnes of steel will be manufactured by Tata in Scunthorpe, before being rolled into rail at the company's mill in Hayange, France.
The new South-Europe-Atlantique line will be 188m (300km) long.
In May, Tata announced plans to shed 1,200 jobs in Scunthorpe. The contract will not affect the ongoing restructuring process, the firm said.
Head of Tata Steel's rail sector, Gerard Glas, said: "This is a prestigious project which we are delighted to have secured.
"We will be supplying rails each measuring 108 metres long. These longer rails give passengers a smoother ride and reduce maintenance costs."