Three-month throat cancer awareness campaign launched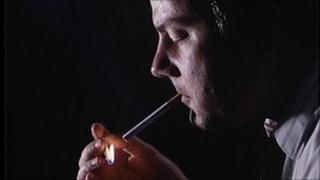 A major throat cancer awareness campaign has been launched by the Humber and Yorkshire Coast Cancer Network (HYCCN).
The three-month initiative aims to make people aware of the symptoms of the disease.
According to HYCCN, cases of throat cancer are 10 times higher in some areas of Hull and Grimsby than in other parts of the region.
Residents in high-risk areas will be sent an information pack.
The campaign will focus on encouraging people to seek early treatment.
Hull cancer consultant Jemy Jose said: "Early diagnosis has got a more than 90% survival rate over five years, as opposed to the advanced length of cancers, the survival rate drops down to less than 50%."
The main symptoms of throat cancer are hoarseness or a change in the voice that lasts for three weeks or more. Other signs include difficulty swallowing or a feeling that something is stuck in the throat.
The highest incidents of throat cancer occur in the Myton and Marfleet wards in Hull and the East and West Marsh areas of Grimsby. All these areas have smoking levels of over 40% in adult males.
A 2010 study by HYCCN showed that 87% of patients with head and neck cancers were aged over 50. Over 80% were men, of whom 50% had throat cancer.
One cancer patient supporting the campaign is Bill Goodhand, 73, from Grimsby. He was diagnosed last year and underwent a course of radiotherapy and chemotherapy.
He said he regretted not going to see his GP sooner. "I wasn't worried about it. I wished my voice back to normal, but I never thought, 'Oh goodness me, this could be cancer'. It never entered my head."