Hull man "lucky" to be alive after bolt screen smash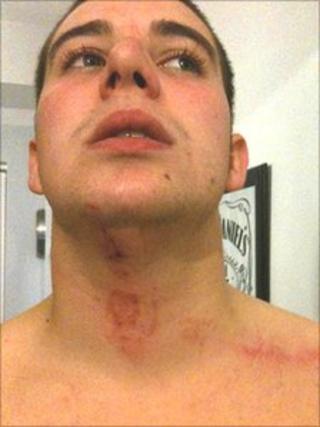 A man from East Yorkshire said he was "lucky" to be alive after a metal bolt smashed his windscreen and cut his head and neck as he was driving on the M62.
Adam Davis, 22, from Hull, was driving over the Ouse Bridge, near Goole, when he was struck by the 6in (15cm) bolt.
Mr Davis said: "You are genuinely in shock at first. It was quite a traumatic experience."
The Highways Agency said it was "unlikely" to be able to discover how the bolt came to be on the motorway.
'Couldn't breathe'
Mr Davis said it took him a moment after the bolt smashed his windscreen before he realised what had happened.
"I was really focusing on whether I was OK because, for a while, I couldn't even breathe," he said.
"It was in the hospital that things hit home and I thought it was definitely a lucky one."
A spokesman for the Highways Agency said such incidents were "extremely rare".
He said that "at first glance" the bolt did not appear to be the sort used on the Ouse Bridge or its safety barrier.
"Given the circumstances, it is unlikely to be very easy to determine how and when this bolt came to be on the motorway carriageway," he said.