East Yorkshire residents in anti-litter patrol plan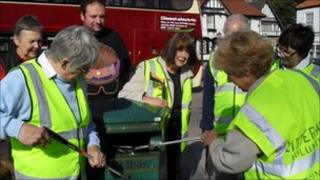 Residents in East Yorkshire are being encouraged to form their own anti-litter patrols following success in one part of the county.
East Riding of Yorkshire Council is providing volunteers with equipment and bags to clean up their own communities.
One pilot project in Hessle has attracted 34 volunteers. The authority now wants to expand the scheme across the county.
The council has denied the move is about saving money.
Paul Tripp, group manager for environmental services at East Riding of Yorkshire Council, said: "We've got scheduled cleaning that happens in Hessle, both mechanical sweeping and litter picking and emptying litter bins.
"This group really just helps us with that, and enhances the town."
Broken glass
The Hessle group, which was founded two years ago, is called the Litter-Arti and works one Saturday every month.
The group is issued with high-visbility vests, litter picking sticks and bags by the council.
Members carry out general cleaning and are instructed not to pick up hazardous waste, such as broken glass or syringe needles.
Group organiser Sylvia Hookham said the group often recruited new members while they were out cleaning.
The council is supporting new groups that have been formed in Cottingham and Bridlington.