Iceland trip to replace Hull's stolen fishing statue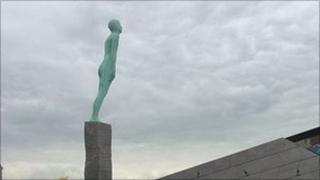 The Lord Mayor of Hull is travelling to Iceland to talk to the sculptor of a stolen statue about recasting the artwork.
The 6ft (1.8m) high, bronze sculpture, called Voyage, was taken from its plinth by a gang of thieves in July.
Despite a £1,500 reward, the statue has not been recovered.
The replacement will cost approximately £40,000 and will be paid for out of the council's insurance fund.
The Lord Mayor Colin Inglis said: "They [the Icelanders] were amazed at the time that anybody would do it. I think that continues to be the case. They just can't believe that someone would stoop so low, really.
"I think it was important for us to make it very clear to them how much we valued what had been done with this project project and what this statue meant to us."
A mould will be taken from its sister statue in the Icelandic town of Vik.
It is hoped the the recast sculpture will be installed on its plinth after Christmas.
Stolen for scrap
CCTV footage taken at the time of the theft showed a group of men pulling the 300kg statue of its plinth and loading it in to the back of a van.
Two people were arrested in connection with the theft but later released without charge.
It is believed to have been stolen for its scrap metal value, estimated as between £1,200 and £1,800.
The statue, a memorial to those who died at sea, was a gift from the fishing town of Vik.
It was designed by the Icelandic sculptor Steinunn Thorarinsdottir and erected in 2006.