Hull will host its first ever marathon on city streets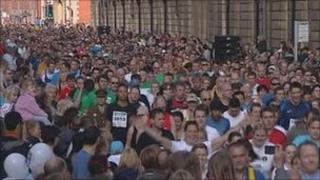 Hull City Council has announced plans to host the city's first ever street marathon.
Runners can now register to race online, with organisers hoping to attract up to 5,000 participants for the event.
The council said it hoped the marathon would raise the profile of the area and encourage locals to take up running.
Some local athletics clubs have expressed reservations about the race's viability.
Local runner Andy Lyons, who organises an annual 10K road race, said he supported the idea but was concerned about the organisation.
"The date is two weeks before the London Marathon, which is the biggest marathon in the UK, he said.
"We are concerned that if even it does go ahead how many people it would attract to the city and the quality of the event, given that most of the better runners would already be committed to London."
'Safety paramount'
Mr Lyons also claimed the race had yet to apply for a licence from the governing body UK Athletics.
Although the race could still go ahead without official approval, the lack of a UK Athletics licence could put off elite athletes from participating.
Karl Jackson, of the race organiser Toro CSC Events, said that they were still finalising the race route.
He said: "We are in the licensing process at the moment. We are working with UK Athletics.
"There are a number of processes we go through in selecting the route. Obviously, safety is the biggest and most paramount for everyone concerned."
The race is scheduled to take place on Easter Sunday in 2012 - 8 April.