Injured ex-soldier from Bridlington wins benefit battle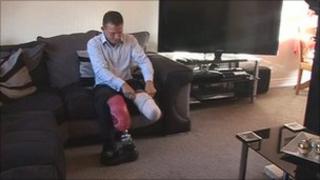 A soldier who was injured while serving in Afghanistan has had his Disability Living Allowance reinstated.
Aron Shelton from Bridlington, East Yorkshire, had his lower left leg amputated after being injured by an explosion while on patrol in Helmand Province, Afghanistan, in 2007.
The Department for Work and Pensions (DWP) stopped his £180-a-month allowance in July 2010.
The benefit was reinstated following a tribunal hearing in Scarborough.
During the hearing the DWP apologised for the decision to cut the benefit and said the allowance would be reinstated indefinitely.
Mr Shelton used the monthly allowance to pay for a specially-adapted car.
Speaking after the tribunal hearing, the 27-year-old said: "I've got my independence back. I can go to the shops.
"I can see friends and do general stuff that normal people can do in their everyday life."
The DWP removed the allowance after Mr Shelton learnt to walk up to 400m (1,312ft) with the aid of a prosthetic limb.
His fiancée, Callan Fowler, said: "I'm glad they've seen sense. It doesn't take anybody of any profession to work out that Aron has a day-to-day struggle. But, the battle was worth it."