North Lincolnshire Council produces heat loss map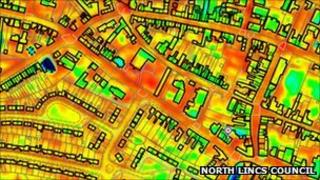 People in North Lincolnshire can now check how much heat is escaping from their homes with a new heat loss map.
North Lincolnshire Council commissioned an aerial survey of the area using thermal cameras.
The resulting map is available on the council's website, allowing home owners to see how much heat is escaping from their property.
The council hopes it will encourage people to take steps to reduce their carbon dioxide emissions.
The thermal map shows temperature levels in different colours. Red means a lot of heat is being lost, while better-insulated properties appear green or blue.
Councillor Nigel Sherwood, cabinet member for highways and neighbourhoods, said: "The heat loss map will help people identify how much heat they are losing from their roof. With this information they can decide whether or not to look at improving their roof insulation to save on fuel costs.
"This great tool will also help us identify properties that are at risk of fuel poverty, so we can target those in need to offer them help and advice."
The survey cost £13,500 to carry out and it was funded by the Local Strategic Partnership.