Howden mother calls for national meningitis B vaccine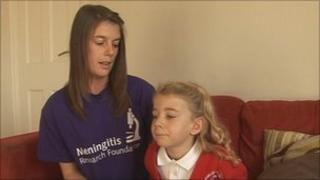 A Howden mother is calling for every child in the UK to be vaccinated against meningitis B after the disease almost killed her daughter.
Carrie Richardson has joined a national campaign calling for the government to make the vaccine - once it is developed - available to all children.
Her daughter, Georgia, caught the disease when she was two-years-old.
It caused severe kidney damage and led to the amputation of her fingers and toes.
Ms Richardson said at first she thought the symptoms were just a routine childhood fever.
"It was 10'o'clock in the evening and she became unwell. She was vomiting. Her breathing was quite fast, but I didn't think anything of it, she said.
"The next morning I got her up to have a bath and there was a little pinprick on her tummy, just a purple mark. Which is when I suspected meningitis."
Georgia spent weeks in hospital recovering and still needs regular check-ups.
According to figures from the Meningitis Research Foundation, the charity behind the campaign, nine people catch meningitis every day in the UK. Of these, one person will die and two will suffer permanent disabilities.
Scientists have been working on a vaccine for a number of years and hope to have it ready for use next year.
The vaccine will be assessed by the government's independent advisers, the Joint Committee on Vaccination and Immunisation, who will decide whether to recommend its routine use for children on the NHS.