North Lincolnshire oil refineries workers protest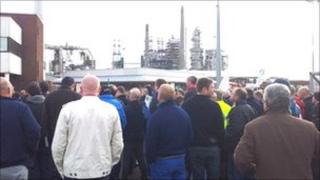 Building workers have staged protests at two North Lincolnshire oil refineries in a row over pay cuts.
About 200 members of the Unite union demonstrated outside the neighbouring Total Lindsey and Conoco Phillips refineries in Immingham on Monday.
The union claims construction companies plan to dismiss staff and re-employ them on new contracts with lower wages.
In a joint statement, the contractors said there would be no pay cuts or redundancies under the changes.
'Families to support'
Workers are angered by plans by Balfour Beatty and other construction companies to regrade staff in the mechanical and electrical sector.
Unite said the eight companies, which have construction contracts with the two refineries, plan to dismiss employees before re-engaging them on new contracts.
The union claims the move would lead to skilled workers, including electricians, pipe-fitters and plumbers, being forced to work on semi-skilled grades and losing up to a third of their pay.
Unite regional officer Chris Weldon said: "Construction workers cannot afford to lose a third of their income.
"They have families to support and mortgages to pay. That is why workers are so determined to defend what they have."
However, a statement on behalf of the major contractors said: "In response to the claim that pay will be cut by 30% or more, we can confirm that the pay grades of electrical operatives will remain completely unchanged.
"The hourly pay rates of mechanical and plumbing operatives will increase substantially to come in line with the existing electrical rates of pay.
"In addition, the other terms and conditions will either remain unchanged or in some cases will be improved."