Hull aims to host Icelandic Olympic team for 2012 games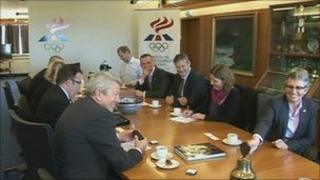 A delegation from Hull has met with Icelandic officials to discuss using the city as training base for the 2012 Olympic Games.
City councillors held talks with members of the Icelandic government and Olympic officials in Reykjavik.
The group was the first from the UK to visit Iceland to discuss offering training facilities.
The head of the Icelandic Olympic association described Hull as a "good option".
As well as the city council officials, the delegation was joined by the British Ambassador in Iceland and Alan Johnson, Labour MP for Hull West and Hessle.
Mr Johnson said the city's strong links with Iceland would benefit the Olympic team.
He said: "Given our close relationship, I think this is another sign of how important that relationship is and how they would feel at home and relaxed with people who know all about Iceland."
Iceland has won four medals since 1936. The last was a silver for handball at the 2008 Beijing Games.
Hull has an accredited handball facility at the Bonus Arena in West Park.
Olafur Rafnsson, President of the National Olympic and Sports Association of Iceland, said a decision would be made in the next few weeks.
He said: "There are a lot of options, not only in the UK, but in other countries. Of course they are options, but in my opinion this is a good option."