Traps put out in Hornsea Mere to catch shrimps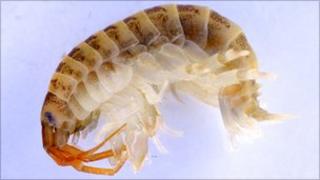 Traps are being laid in Hornsea Mere to track shrimps which could be invading the region's waterways.
Environment Agency officers will monitor the traps on Friday to check the number of invasive species, known as Dikerogammarus villosus.
It grows up to 30mm long and kills a range of native species, particularly shrimps, young fish and insects such as damselflies and mayflies.
Traps are also being set up at other selected waterways in Yorkshire.
The Environment Agency said people could continue to use the Mere, but it is urging anglers and boaters to be cautious with their equipment.
The Dikerogammarus villosus shrimp, which has gained the nickname "killer" as a result of its voracious appetite, has spread across most of western Europe over the past 10 years.