BAE workers petition collects 2,400 names, says Hull MP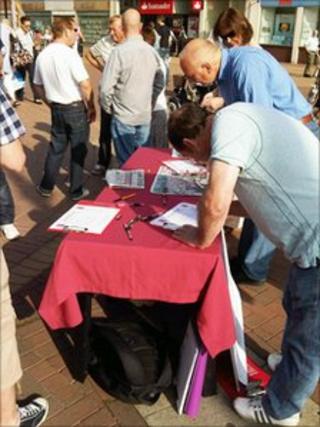 A Hull MP said she had collected 2,400 signatures in three hours after starting a petition to support BAE Systems workers facing redundancy.
Earlier this week, the firm said 900 jobs would be cut from its 1,300-strong workforce at Brough.
Hull North Labour MP Diana Johnson said the response was "amazing" and she would continue petitioning for names.
BAE Systems said the redundancies were needed so that the company could maintain competitiveness.
Other jobs will be lost from factories elsewhere in the UK.
Ms Johnson said: "Today's amazing response shows that there is huge support for the BAE Systems workers from Hull people.
'Help Hull'
"We will carry on collecting names supporting the BAE workers."
The MP began the petition on Saturday urging people to "send a loud and clear message to BAE Systems and the government about how essential these jobs" are to the local economy.
She said: "This will help Hull and Humber MPs get the issue raised on the floor of the House of Commons.
"The [government] cannot just abandon BAE Systems and these workers and our regional economy.
"The defence industry is vital to the UK, supporting both our forces on the front line and the wider UK economy."
Ms Johnson said the petitions could be handed in to Parliament.
Workers at BAE Systems joined the MP to collect signatures at Hull's Queen Victoria Square.
Paul Hartley, an employee at BAE, said: "It's a sad time but these lads aren't going to take this lying down, we're going to try and fight for our cause.
"We need to get as much support as we can."