Hull-based band Lymes release their debut album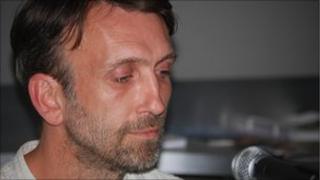 When Lymes planned the launch of their new album, the offer of a gig with the Hull Philharmonic Orchestra was too good an opportunity to miss.
On Saturday 8 October at the Albemarle Centre in Hull, 25 members of the orchestra join the band live on stage.
The gig is part of Hull's Eclectic Proms and features other local musicians including Rory Mansfield.
Lymes' album, Goodbye Bangkok, has already received airplay on BBC 6 Music.
Musical pedigree
Lymes have a musical pedigree that stretches back 20 years, with singer Richard Gilbert and fellow band member Simon Andrew having first performed together at the Tower nightclub in Hull in the early 1990s.
"It was our first and last gig," said Richard, about their performance.
"I then went off travelling and settled in Asia while Simon formed the band Reuben and our paths diverged, although we never really lost touch in all those years."
Two decades on Richard came back to Hull knowing that he wanted to make music and Simon seemed like the obvious person to approach.
"I'd never really stopped performing and playing music, I'm a busy man," laughs Simon Andrew, "But I was really glad to be involved. It's taken a couple of years to get the album as we want it, but I'm pleased with the result. I've played it alongside other CDs that I like and it stands up well."
Richard admits that his musical ability consists of being able to sing and write but beyond that doesn't play any instruments. Simon, by contrasts "plays everything" according to Richard and has played in a variety of Hull bands including Mammal Hum. On some of the album tracks, Simon plays all of the instruments.
As the lyricist, Richard Gilbert found inspiration for the lyrics in his 20 years living in Thailand.
"The songs are about the darker side of life in Asia," he said. "Once I decided on that being my theme, the words just came very easily."
The band have also drawn on a mutual love of the music of Lee Hazlewood and perform a cover of one of the country legend's songs on the album. It's this track that has been played on BBC 6 Music by presenters Cerys Matthews and also Andrew Collins.
Simon also lists The Kinks, Velvet Underground and Sparks as bands that he loves.
"But you won't hear any Sparks influences on the album!," he laughs.
Preparing the play live
Friends and fellow musicians Charles Huckvale, Sean Willerton and Leon Wellburn joined Simon and Richard on the studio recordings and the natural next step was to prepare for a live gig.
"We're not intending to play live a lot, " said Richard, "but I liked the suggestion of playing with the Hull Philharmonic. We're really looking forward to it. It'll be great to play with an orchestra."
The combination of this band and the Hull Philharmonic is one that excites BBC Introducing presenter Alan Raw.
"Lymes' songs are melodic and beautifully performed, "he said, " the harmonies work well, the whole sound is very rich and I can't wait to hear strings and brass section accompanying the band. What a great combination."