Hull signs military charter to help forces veterans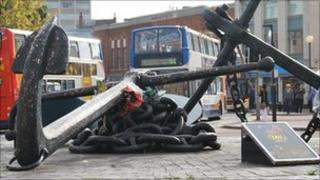 Hull City Council has signed an agreement to help service personnel integrate back into the community after leaving the armed forces.
The Armed Forces and Veterans Charter is designed to help people from the military and the Merchant Navy.
It includes free use of the council's leisure centres and priority access to housing and employment services.
The scheme is the first in the UK to recognise the role played by merchant sailors in conflicts, the council said.
During both world wars, hundreds of Hull trawlers and their crews were requisitioned by the Admiralty and used as minesweepers and patrol craft. Many merchant seamen were killed in action.
During the Falklands War in 1982, the North Sea ferry Norland was involved in landing Royal Marines and other forces in San Carlos Water. The ship came under attack from Argentine aircraft.
Lt Col John Connelly from the 150 Yorkshire Transport Regiment said the initiative re-enforced the strong links between the area and the armed forces.
"It's valuable that society understands the sacrifice of the military and what we do for the populous. But also it's important that the military contributes back into those communities," he said
"So it's not just a one-way document. It's a way of recognising what the armed forces, and (those who have) recently left armed forces do in society."