BAE Brough cuts protesters at Conservative conference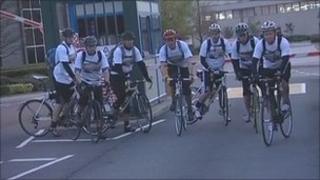 Workers from the BAE Systems factory in Brough cycled through the night to Manchester to campaign at the Conservative Party conference.
Nine engineers set off from the plant in East Yorkshire on Tuesday evening to ride the 82-mile (132km) route.
BAE Systems said last week that 900 jobs would be cut from its 1,300-strong workforce at Brough.
Announcing the job losses, BAE said it needed to stay competitive and the cuts would "ensure its long-term future".
The protesters spoke about the redundancies in a meeting with Business Minister Mark Prisk.
After the meeting Mr Prisk said: "I wanted to listen to those workers affected by this announcement and to explain the actions the government has taken, including the creation of new enterprise zones.
"We are committed to working hard to help both the individuals and the communities affected."
Justify losses
One of the cyclists, Mike Eyre, said: "Ninety-five years worth of manufacturing isn't to be thrown away lightly. It seems that British manufacturing as a whole is on a downward spiral.
"If we can highlight our cause, then hopefully some good will come of it."
Ten people from BAE Warton and Samlesbury cycled from Lancashire to show support for their Brough colleagues.
Local MPs have met with BAE management to ask the company to justify the job losses.
Andrew Percy, Conservative MP for Brigg and Goole, said: "We've heard the case and the reasoning behind this. We hope to...see the business plan later on this week.
"There are a lot more questions that have been raised. We will be going back to BAE and back to the unions, and indeed ministers, and say 'what can we do to change this?'."
On Monday, Chancellor George Osborne announced a new enterprise zone would be created at Brough to help workers who lose their jobs at BAE Systems to find new employment.