Humberside Police helicopter averts railway crash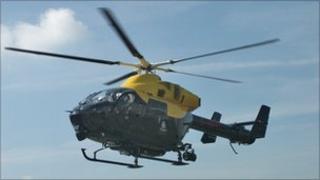 The Humberside Police helicopter stopped a train after the pilot saw a car abandoned on a Hull railway line.
The car was left on the railway crossing at Hawthorn Avenue in west Hull after a police pursuit.
The helicopter flew low in front of an oncoming train and signalled to it to stop by flashing its landing lights.
The train stopped successfully and nobody was injured. The car was removed by police from the line, which is the main route for inter-city services.
The incident happened on Monday afternoon and involved the 12:41 Northern Rail service from Sheffield.
The helicopter pilot, Capt Kathryn Chapman, said the train was less than a mile from the car when she intervened.
"I did have a little turn in my stomach when I saw the train coming relatively close," she said.
"I increased the speed to the maximum for the aircraft and tried to position the helicopter as best I could in front of the train to draw the driver's attention."
Humberside Police said the driver of the vehicle, a 40-year-old Hull man, was arrested by officers at the scene for failing to stop and suspected drugs offences. He has now been released on police bail pending further inquiries.