Great Thornton residents-run shop sells fresh goods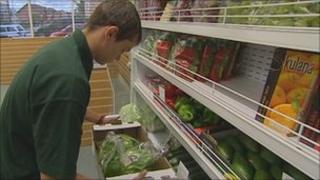 A new community-owned shop selling fruit and vegetables has opened on a Hull estate after residents complained there was nowhere locally to buy fresh produce.
The project on the Great Thornton estate in west Hull is run by volunteers.
It was set up by 25 residents with the help of a local charity.
The not-for-profit business was opened on Friday by the Labour MP for Hull West and Hessle, Alan Johnson.
Mr Johnson said: "There's been no outlet for fresh food and vegetables for years... so it's the Thornton residents doing it for themselves and is a fabulous venture."
'Healthy eating'
There are plans for residents to grow their own produce on allotments, which they can sell via the community shop.
All profits will go back into the scheme.
Volunteer and resident Doug Smelt said: "It's a great opportunity for local people to take control of - not just our food - but our lives as well.
"We can have a say on what's stocked in the shop, we can have some input in terms of pricing but it's a great opportunity for people to come together as a community."
Aside from selling produce, Mr Smelt said the scheme would also involve local schools and community groups with educational activities on healthy eating.
Goodwin Development Trust, the charity supporting the scheme, said the shop saw nearly 200 visitors on its first day of trading.