BAE Brough jobs protest joined by Jarrow marchers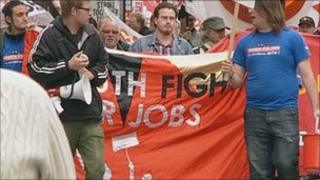 A protest against the loss of 900 jobs at BAE Systems in East Yorkshire has been joined by campaigners recreating the 1936 Jarrow jobs march.
The Jarrow campaigners, a group of young unemployed people marching from Tyne and Wear to London, joined a protest in Hull against the cuts at BAE's factory at Brough.
Announcing the redundancies last week, BAE said it needed to stay competitive.
Protesters have marched through Hull city centre against the job losses.
The re-created Jarrow march was organised by campaign group Youth Fight for Jobs and includes some of the great-grandchildren of those who took part in the original march 75 years ago this month.
'Skilled jobs'
Matt Whale, one of the Jarrow campaigners, said Hull was already one of the worst areas in the UK for unemployment.
"A thousand skilled jobs going in the area is just going to further decimate the economy," he said.
"We feel it's absolutely vital to link with workers in struggle."
A petition backing a campaign to save jobs at the BAE factory in Brough has already received about 10,000 signatures.
BAE has launched a 90-day consultation into the plans to shed jobs which is due to finish at Christmas.
On Monday, Chancellor George Osborne announced a new enterprise zone would be created at Brough to help workers who lost their jobs at BAE Systems to find new employment.