Castle Hill Hospital gets cancer hair loss equipment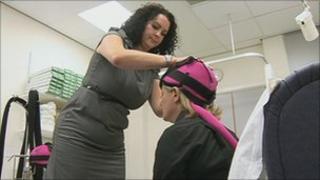 An East Yorkshire hospital has received a donation of equipment designed to reduce hair loss in patients undergoing cancer treatment.
The technique involves fitting the patient with a rubber cap that is pumped with a cooling fluid.
The cold temperature restricts the amount of blood reaching the hair follicles, protecting them from the effects of chemotherapy drugs.
A breast cancer charity has donated six of the units to Castle Hill Hospital.
Scalp cooling has been used for some years, and traditionally involves using frozen gel packs.
The machine was developed by family firm Paxman Coolers Ltd, based in Huddersfield. The first unit was produced in 1997.
Claire Paxman, from the firm, said the inspiration to invent the device came after her mother's experience of undergoing chemotherapy.
"She was actually given a method of scalp cooling but it didn't work," she said.
"I personally, at 14 years old, had to cut off all her hair in the bathroom."
The success of scalp cooling can vary from patient to patient.
Castle Hill Hospital's nurse director Sarah Bates said: "We've actually had patients who have nearly refused treatment because of the fact we had nothing to offer them to prevent their hair loss.
"So to be able to offer this, and get this up-and-running is absolutely fantastic."
The units, each costing £8,500, were donated by the charity Walk the Walk.