Hull railway station removes heart defibrillator machines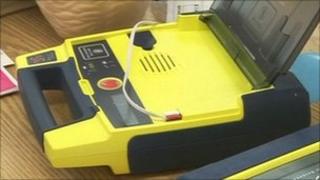 Hull's main bus and railway station no longer has its own defibrillator machine.
It has been withdrawn by the station's operator, First TransPennine Express. The company said its staff were not trained to use the machine and there were NHS facilities close by.
The devices are used to resuscitate cardiac arrest victims by administrating electric shocks.
A safety adviser said he expected the equipment to be in a public building.
An Automated External Defibrillator (AED) consists of two pads which are placed on the patient's chest.
'Highly desirable'
The machine assesses whether the person has had a cardiac arrest and then administers electric shocks to restart the heart.
Glenn Ramsden is a former firefighter with Humberside Fire and Rescue Service. He now advises on safety issues.
"Without a doubt you would expect to find one. This is the first one I've ever known of that has been removed," he said.
The British Heart Foundation (BHF) has distributed more than 6,000 defibrillators across the UK since 1996.
The charity said its research showed that treatment within five minutes of a cardiac arrest provided the best possible outcome.
"While it is highly desirable that those who may be called upon to use a defibrillator should be trained in their use, no inhibitions should be placed on any person willing to use one," a spokesperson for the BHF said.
"They are safe and easy to use, and will not allow a shock to be given to a victim who does not require one."