Late Night Fiction record new EP in "spiritual home"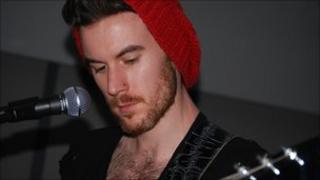 When Late Night Fiction were deciding where to record their next releases, Glasgow was their unanimous choice.
The band feel they fit in well with the Scottish music scene and have already established a following in the city, after playing a number of gigs there.
The sessions saw them recording for the first time with producer Bruce Rintoul who has worked previously with Twin Atlantic and The Ting Tings.
The new releases will include an EP due out in April 2012.
Spiritual home in Glasgow
Late Night Fiction may come from Hull and have a good reputation locally but it is in Glasgow that the band feel they have found something of a spiritual home.
Having already established friendships with Scottish bands Fatherson and United Fruit it was only a matter time before the band came to the notice of producer Bruce Rintoul, who saw them at a gig in Glasgow.
Rintoul had already mixed Twin Atlantic's B sides and Late Night Fiction knew he would be sympathetic to what they were trying to achieve.
Guitarist James Thompson said: "He was already friends with bands we were gigging with and getting on well with, like Fatherson, so it seemed like a natural progression to get him working with us.
"We recorded in the centre of Glasgow at Lofi studios. It felt brilliant to be working there, but as always, the recording sessions were really intense."
The band recall the producer's attention to detail, in particular with tuning and timing as being a stand out feature of the session. They are pleased with the initial results.
"We heard the preliminary mix and liked it," said James. "You never really know how a live song you've been doing for a while will come together when it's finally time to record it and it's hard to be objective with something so familiar to you.
"But, we're pleased with how it's gone so far and now we can't wait to hear the mastered recordings."
Early days
Late Night Fiction started life in June 2009 with remnants of well respected Hull bands such as Alison Angus in the line-up. James Thompson and singer and guitarist Phill Morris go ever further back.
"We were in bands together at school," laughed James, "and it was only a matter of time before we ended up doing something like Late Night Fiction."
The line up is completed with bass player Reece Britton and drummer Josh Meredith. Josh has recently started university in Liverpool but the distance between them has not interrupted the band's progress.
"We just have to be more organised with rehearsals", said Josh.
The band are known for their intense live performances and their fans include BBC Introducing producer Katy Noone who rates the band highly.
"I love watching Late Night Fiction live," she said, "and we always love it when a new releases arrives in the post.
"The art work is always a treat and I'm looking forward to what they come up with this time round."
The band agree that the art work for their releases is important to them and have in the past used, among others, Hull-based illustrator Alice Beasley. This time, they are considering a photographic cover.
"We're also playing with the idea of releasing on vinyl this time," said Phill.
"Vinyl is a great thing to have and it really does show off the artwork as well which is a bonus. We may do a download as too.
"We should release on cassette, " chipped in Reece, "Runwalk did it and and it was great buying an old-fashioned cassette!"
As the band prepare to approve the master copies of the recording session, they are also beginning to plan a mini tour in December and a more extensive tour at Easter next year to coincide with the release of the EP.
Glasgow will feature highly in the tour dates according to Reece Britton.
"The audiences really "get" what we're doing in Scotland. They like us, they turn up to our gigs," he said.
James Thompson agreed.
"There's such an interesting rock scene up there and Biffy Clyro have really helped to draw attention to it. We can't wait to get back."