Hull council donates fake toys to children's charity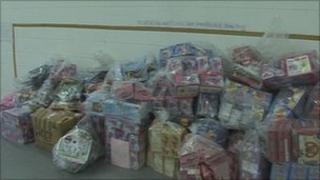 Hull City Council has donated thousands of counterfeit toys seized by trading standards officers to a children's Christmas charity appeal.
The toys are copies of branded products and so cannot legally be given away in the UK due to trademark law.
The council has decided to donate them to the Operation Christmas Child scheme run by the Beverley branch of the charity Samaritan's Purse.
The toys will be given to children in eastern Europe and Africa.
Kathy Webb, Hull and East Yorkshire area coordinator for Operation Christmas Child said: "The children that these toys are going to will not have received any toys in their life."
The gifts will form part of the 1.25 million aid boxes sent out by the charity to children in 15 different countries this Christmas.
Hull City Council's trading standards manager Chris Wilson said: "It's the first time we've had such a large seizure of counterfeit toys, and it seems the appropriate way to dispose of them.
"We haven't got many choices. Really it would mean them being destroyed and put into landfill."
The toys have been checked to ensure they are safe.