Botswana air crash pilot named as Hull man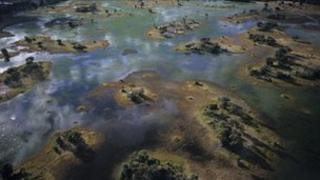 A pilot killed in a plane crash in Botswana's Okavango Delta region was from Hull, it has been confirmed.
Martin Gresswell was among eight people killed when the Cessna 208 burst into flames shortly after takeoff from a remote airfield on Friday.
The Foreign Office (FCO) confirmed Mr Gresswell's identity.
A Facebook page details his address as Maun in Botswana, and lists him as coming from Hull. An investigation into the crash has started.
Employed by Moremi Air as its general manager of air operations, Mr Gresswell was described by the company as its most experienced pilot with more than 12,000 hours of flying.
According to a profile on professional networking site LinkedIn, he served with the British army's Intelligence Corps, had worked as a pilot for the UN in Somalia and Sudan and as a consultant at Barclays Bank.
Mr Gresswell died alongside another British national who had been living in Switzerland. The other tourists killed were from France and Sweden.
Four more passengers - two from France and two from Botswana - survived the crash, which happened close to Xakanaka Airfield.
The group had been bound for Pom Pom island, a site famous for its birds and wildlife.
Sue Smart, chief executive of operator Moremi Air, said the company had chosen to ground its fleet while the investigation into the crash was under way.
"We are lost for words, for condolence for the families of the deceased and the pilot's family," she said.
A spokesman for the FCO said the British victims' relatives had been informed.