Hull City Council clampdown on tethered street horses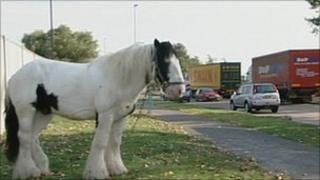 Hull City Council is set to remove tethered horses from city streets after receiving complaints from residents.
The authority said it would be issuing warning notices that horses found grazing illegally on council owned land in the city could be removed.
If owners ignore the warnings the horse will be removed and a fee will have to be paid to recover the animal.
A professional horse impoundment company has been brought in to deal with the problem.
The RSPCA said that in the first six months of this year it had seen a 21% increase across the UK in the number of calls relating to tethered horses, compared to 2010.
The animal charity estimates there are about 3,500 tethered horses across the country.
Although it is not against the law, the RSPCA said it "does not think it is a good way of keeping them".
Hull City Council said it was forced to take action after a number of incidents, including two horses running into traffic in the North Carr area in June.
David Young runs a business on the Sutton Fields industrial estate in north Hull. The area is home to a number of tethered horses.
Mr Young said: "It's a very busy road. There's people walking by. There's women with children. If the horses start kicking out, which they quite often do, it could be a major issue."