Hull primary school teachers 'called pupils inbred'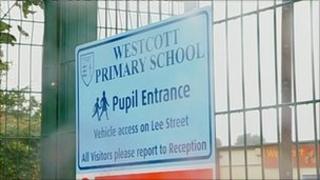 A Hull school is being investigated over allegations that a primary school's teachers labelled pupils "thick" and "inbred" on Facebook.
The page, which has now been removed, allegedly referred to children at Westcott Primary School.
Karl Turner, Labour MP for Hull East, has met with parents to discuss their concerns.
Hull City Council has launched an inquiry into the alleged comments after a request from the school's governors.
Nobody at the school was available for comment.
'Absolutely unacceptable'
Parents who met with Mr Turner on Thursday said the meeting had been an opportunity to air their views on what had happened.
Glynis Dale said she was concerned the teachers involved did not appear to care about the school or the children.
Mrs Dale added: "The meeting went well, parents were able to say what they wanted others to hear."
Another parent, Paul Johnson, said: "If there are a few bad apples who have behaved less than professionally then they needed to be weeded out quickly."
Mr Turner said: "People are really concerned. The comments are really serious.
"Teachers are alleged to have said that people in east Hull are thick and inbred.
"If that's right it's absolutely unacceptable and constituents are outraged about that."
Vanessa Harvey-Samuel, head of localities and learning at Hull City Council, said: "We are taking this very seriously and are pleased to support the governing body.
"We will be investigating the matter thoroughly and appropriate action will be taken."
She added: "All professionals need to be mindful of professional expectations in relation to all communication, even in their own time."