BAE workers start campaign to show faces behind cuts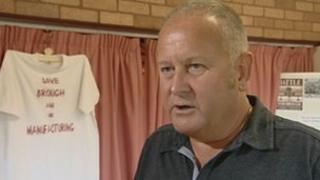 A campaign has been started by BAE Systems employees who face job cuts in East Yorkshire.
They plan to deliver the collection of photographs and messages showing the personal impact of the cuts to Prime Minister David Cameron.
Roy Cartwright, a BAE worker at the Brough plant, said: "We are real people with real families."
In September the defence contractor announced plans to cut almost 3,000 jobs across the country.
Nearly 900 workers at the plant will be affected if the company goes ahead with its plans which are due to be discussed in the Commons later this week.
'Emotional pressure'
Mr Cartwright, who has worked at BAE Systems for 39 years, said: "There's a lot of young people at our site who have young families.
"These files and photos will prick his [the prime minister's] conscience and let him know it's not just 899 faceless people.
"We are real people with real families and we want the government to come in and do something for us."
The group said it planned to deliver the files to Downing Street in November.
When BAE announced the proposal of jobs cuts in September it said the company must "ensure its long-term future".