Hull College to make 79 redundancies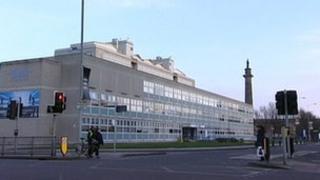 A college is set to cut 79 jobs across three sites in East and North Yorkshire as it looks to save £1.7m.
Hull College, which employs 2,000 people, said it needed to make redundancies across its centres in Hull, Goole and Harrogate.
Julie Kelly, from the University and College Union, said she was "disturbed" by the announcement and had concerns over families affected.
The college said it was consulting staff about savings it needed to make.
Last year, the college made savings of £1.3m, which led to about 70 redundancies.
'Under pressure'
Ms Kelly said: "This time it feels quite different. This round of redundancies is looking more targeted and a lot more specific.
"We are going to reach a point probably in November where people in some areas will be put under pressure, in terms of going through a very difficult stressful redundancy process."
A spokesman for the college said: "The group has offered staff the opportunity to apply for voluntary redundancy in the first instance.
"The Hull College Group is committed to continuing the services it offers students both in the local and wider community and is rated as outstanding by Ofsted.
"The college has no plans to reduce its provision and will work with partners to minimise the impact of the public funding reductions."
The college said it expected to end the consultation process in January.
The union said it would be holding a meeting next week to discuss its way forward.