Humber Bridge users promised 'better voice'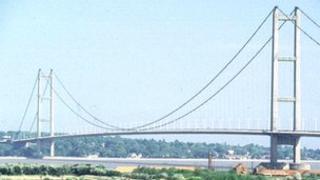 People using the Humber Bridge are being promised a "better voice", as the body responsible for its running sets up two new consultation groups.
The Humber Bridge Board said it had become clear that bridge users often felt their views were not being heard.
The board said one consultation group would represent commercial users, the other would represent private users.
A recent rise in Humber Bridge tolls was heavily criticised by business leaders and campaigners.
A one-way car journey across the Humber Bridge now costs £3.
'Better voice'
The Humber Bridge Board said it was "not the case" that it had failed to pay attention to the concerns of bridge users.
However, it accepted that the legal and contractual reasons behind its decisions over matters such as toll prices had not been "properly communicated".
The two new consultation groups would each consist of about 10 people and would meet "at least" annually, the board said.
It added that the chairman and deputy chairman of the Humber Bridge Board would attend each meeting to answer questions about the running of the bridge.
Board chairman David Gemmell said: "We encourage people to take part so they can give users and local residents a better voice to discuss the future direction of the Humber Bridge."
The board said all applications to become a member of the two consultation groups would be "objectively considered" by the chairman and deputy chairman of the board.