Goole band Velvet Star to rock major festival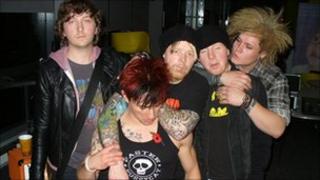 At the end of a year which has seen them tour across the country, Velvet Star are now preparing for one of the biggest gigs of their career.
The Goole-based five piece will join rock heavy-weight Michael Monroe, from Finnish legends Hanoi Rocks, on the bill at the Hard Rock Hell festival in December.
The event, in Wales, attracts thousands of Rock fans each year.
The band release a new album next summer.
Hectic year
Velvet Star are used to life on the road. So far this year they completed five tours and most recently have been gigging in London and Cardiff.
But they're now rehearsing for their biggest gig to date in Wales on Friday 2 December.
Lead vocalist Danny Jones said: "It's going really well. It's been a stupid, hectic year for us and this marks the culmination of it all.
"It's really cool to play on the same bill as Michael as we've been listening to his stuff for years, we've been hugely influenced by that band."
Velvet Star formed in Goole five years ago but have only recently been playing with the current line up which features Adie Lamming on guitar, Corey Jones on bass, drummer Ginna and lead guitarist Zebs.
"This line up feels great," said Danny, "it's like we've found a great group of people, all pulling in the same direction and no friction. Unusual in a band."
Describing their music as "sort of Glam/Punk but essentially just good rock", Velvet Star have been building up a strong fan base across the UK.
"We're not a band who follows current trends but I think that's in our favour," reflected Danny, "our sort of music doesn't go out of fashion and tends to attract a really loyal following."
Influenced by Marilyn Manson
The band are united in their love of Iggy Pop and The Stooges and Marilyn Manson, although Danny Jones admits to a closet admiration for Michael Jackson "because of the performance level and theatrical stage show he used to give".
The band's drummer, Ginna, is a veteran of rock bands in East Yorkshire including Goole-based Phluid who were regulars on BBC Introducing's original show on Radio Humberside, Raw Talent. But now with Velvet Star he's delighted with the way things are going.
"This feels good," he said, "and the Hard Rock Hell Festival feels like we're taking a step up. We're definitely heading in the right dirction now.
"We'll be on the bill at the event with Faster Pussycat who we've played with before. They even came on stage with us on the last night of our tour. It was so cool."
Velvet Star play the Hard Rock Hell Festival in Prestatyn, which runs from Friday 2 to Sunday 4 December 2011. Their current album, "In The Face of Vanity", is out now. Their new album will be recorded next year.