New £20m university centre opens at Grimsby Institute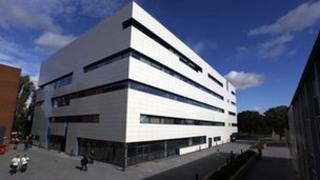 A further education college is opening a new £20m centre that will offer university level courses.
The Grimsby Institute's new five-storey building will house 1,000 students and has lecture rooms, laboratories and specialist research facilities
It is supported by the University of Hull, and will be opened by Hull's vice chancellor, Professor Calie Pistorius.
The college hopes that the centre will encourage local students to stay in the town and study for degrees locally.
Degrees from a variety of universities across the north of England will be on offer.
Funding for the development came from the Grimsby Institute, the Higher Education Funding Council of England and the now closed development agency Yorkshire Forward, which gave a grant of £3.5m.