Thousands of workers take part in national strike action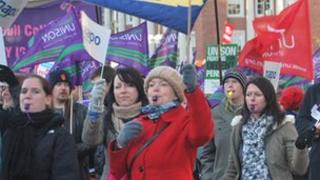 Union leaders estimate 5,000 people have marched through the centre of Hull as public sector workers staged a one-day strike.
According to Humberside Police "several hundred people" gathered at a rally in Hull's Queen Victoria Square for speeches from union bosses.
The action has affected schools, libraries, jobcentres, bin collections and ports.
Cabinet Office Minister Francis Maude has called it "indefensible and wrong".
Many schools across East Yorkshire and northern Lincolnshire were closed and there was disruption to travel and hospitals as thousands of people took part in industrial action as part of a national public sector strike over pension reform.
Marches and rallies were also organised in Scunthorpe and Grimsby.
In the East Riding 111 of the council's 156 schools were closed or partially closed.
North East Lincolnshire Council reported that 50 of its 66 schools were closed or partially closed.
North Lincolnshire had 51 out of 81 schools closed or partially closed.
Teacher Emma Hardy, who was on strike at the Hull rally, said: "I feel very sorry for parents that have been inconvenienced but speaking personally, all the parents I've spoken to have been really supportive."
Members of the Public and Commercial Services Union formed a picket line at Hull's ferry terminal.
Kevin Brow from the union said: "We'd normally be getting ready to meet passengers from both the ferries that arrive in Hull.
"So, as regards to the disruption, unfortunately, there will be delays to the passengers, who arrive off the ferries, for which we apologise."
'Appropriate training'
Humberside Police said that members of the public should not have been affected by police staff taking part in industrial action.
In a statement they said: "A number of detention officers have gone out on strike from the custody suites along with police staff from the command centres on both sides of the Humber but these areas have been covered by police officers who have appropriate training."
Yorkshire Ambulance Service said it was able to serve patients with serious and life-threatening conditions.
A spokesman said it operated at a reduced level and there was some disruption to normal services.
Chancellor George Osborne said the strike would "achieve nothing" while Education Secretary Michael Gove said it was "unfair and unrealistic" to expect taxpayers to foot the increasing public sector pensions bill.