Hull's Castle Hill Hospital unveils cancer centre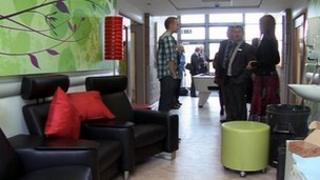 A £215,000 specialist young people's cancer centre has opened at Castle Hill Hospital, in Hull.
The four-bed unit has been paid for by the Teenage Cancer Trust charity, with donations coming from local businesses and fundraisers.
It will provide support for cancer patients aged 18 to 24 across East Yorkshire and northern Lincolnshire.
The centre is the first in the area and will work in partnership with a similar unit in Leeds.
The facility has a four-bed unit, a day room with music area, a recreational area and outside space.
It will mean many young people will no longer have to travel to Leeds for treatment.
Nick Massey, who has had to travel to Leeds each day for treatment for bone cancer, said: "When I was stuck in Leeds for long periods of time my friends were unable to come and visit me in hospital because of how far it was.
"If the unit had been open in Castle Hill I would've been able to see my friends more regularly.
"It would've been easier to access support from the hospital and it would've been a lot better than having to go to and from Leeds, especially with the weather we experienced last winter."
Some patients who require specialist treatment for rare cancers will continue to be treated at the Leeds unit based in St James's University Hospital.