Ponies manage East Yorkshire nature reserve grassland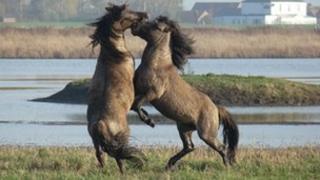 Wild ponies have been introduced to a RSPB nature reserve to keep the grass levels down for ground-nesting birds.
Blacktoft Sands, near Goole, has released four Konik ponies on to its reserve to graze on the land and reduce the need for mechanical grass cutting.
The horses are a small, hardy breed, originally from Poland. They survive by foraging and can live in extremely low temperatures.
The RSPB has introduced Koniks at a number of its reserves across the UK.
Mike Andrews, RSPB Blacktoft Sands visitor officer, said: "We think the ponies will be a real hit with our visitors but while they are generally placid and look cute, they are still essentially wild animals so we are asking people not to pet them and keep a respectful distance."