Bridlington harbour row over hotel and car park plans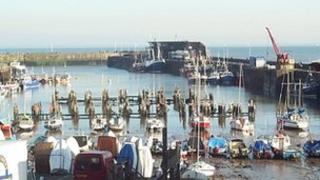 Proposals to build a hotel and multi-storey car park next to a harbour in an East Yorkshire coastal town are at the centre of a dispute with the council.
East Riding of Yorkshire Council has proposed the development of Bridlington and its harbour as part of its regeneration plan.
Bridlington Harbour Commissioners are opposing the development as it would be built on their land.
A public hearing is being held this week to discuss the town's plans.
The Harbour Board had originally agreed to the development under proposals for the construction of a new marina back in 2009.
However, plans for a new marina were suspended because of the economic downturn and the closure of regional development agency Yorkshire Forward, a potential source of funding.
The board has now said council plans for a hotel and car park have become unworkable because the harbour cannot afford to lose its plot of land.
'Difficult position'
Harbour-master Chris Wright said: "Unfortunately this puts us in a funny position because we were to move from the west end [of the harbour] on to new made up land and of course there won't be any now because there'll be no marina.
"The council has no land to give so we're very loathe to move or give part of this land away.
"We're a trust port, it has to stand on its own two feet and the place has to be workable and viable, so it's put us in a difficult position."
A spokesperson for the council said: "The Bridlington Area Action [regeneration] Plan is now subject to an examination in public, starting today, which is open to the public and press.
"However the council will not be making further comments to the media while this is taking place."
The council's regeneration plans also include proposals for new modern offices, the demolition of run-down properties and a new route into the centre of the town.
If approved, millions of pounds could be invested in the resort over the next few years.
A five-day public hearing into the regeneration plans is under way and is being run by an independent inspector appointed by the Secretary of State for Communities and Local Government.
Bridlington Harbour was constructed between 1817 and 1848, comprising an area of 4.4 hectares (10.8 acres).