Illegal 'lollipop' Christmas decorations prompt warning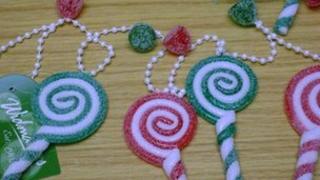 Illegal Christmas decorations in the shape of food have been seized by authorities in East Yorkshire.
East Riding of Yorkshire Council said they found dangerous lollipop-shaped decorations at a number of retailers in the region.
Decorations that imitate food are illegal under European Union law.
A national product recall has now been issued by the importer. Further criminal investigations are also being undertaken.
The council found the plastic items during a routine investigation of shops last month.
The decorations, which look like lollipops, were found at retailers in the Beverley and Goole area.
Councillor Jane Evison said: "I would urge people to think twice before using any decorations which could be mistaken for food.
"They present a serious risk to anyone, especially children, if they are accidentally chewed or swallowed and could potentially ruin someone's Christmas celebrations."
The council said anyone who has purchased one of these products should return it to the outlet at which it was purchased and seek a full refund.