Sacked caravan workers still waiting for redundancy pay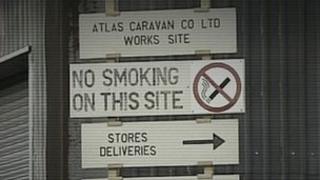 Workers who lost their jobs at a Hull caravan maker in 2008 said they were still waiting for their redundancy pay.
More than 340 staff at Atlas Holiday Homes were made redundant just before Christmas three years ago.
The sacked workers won a tribunal hearing in January 2010 which awarded them 3 months' pay.
The firm's liquidators said that due to the tough economic climate they had been unable to sell the company and pay the workers their money.
Sam Newlove, who worked at Atlas for 23 years and was awarded £6,000 by the tribunal, said he was frustrated by the slow progress on selling the company by liquidators BDO.
"We'd like to know where our money is and when it's coming. They're [BDO] getting their money. Why can't we have ours?," Mr Newlove said.
'Fully sympathise'
"They're getting their fees regular every three, four months when they ask for it. They get their money. Why can't we have our money?"
Liquidators BDO said the £1.5m awarded to the workers by the tribunal hearing made them "unsecured creditors", along with all other remaining creditors of the company.
BDO said: "The money to pay those unsecured creditors is being raised by the sale of the remaining land and property formerly owned by the company.
"Unfortunately, the tough economic climate means it hasn't been possible to sell those assets at a price which would guarantee the unsecured creditors any money back.
"The joint liquidators fully sympathise with their position and will continue to work hard to achieve a sale at a price which is of maximum benefit to those affected."
Atlas Holiday Homes is not connected with, and should not be confused in any way, with a completely separate firm, with a similar name, operating from the site in Hull.